Head Office Apprenticeships
If you're a multi-tasking problem-solver, and a great communicator who works well with others, then one of our Head Office apprenticeships could be right for you. There's a wide range of specialist programmes in a variety of areas for you to choose from, including IT, Finance, HR, Operations, Marketing & PR, Leadership & Management – and much more.
We have different programmes open at different times throughout the year, so keep checking back for new opportunities.
Human Resource Apprenticeship

CIPD Level 3 HR Support
18-24 months
Joining our HR shared services team you'll be exposed to different areas of the business, enabling you to gain an in-depth understanding of the organisational and operational complexities. You'll develop knowledge of HR legislation, policies and employment laws. And, learning how to use different systems and processes, you'll handle day-to-day queries from colleagues from across the business, and provide HR advice on issues from recruitment through to retirement.
As well as gaining the CIPD Level 3 HR Support qualification you may have the opportunity to join the AA in a permanent role, and the option to go on to the Level 5 HR Management Apprenticeship.
---
Talent Acquisition Apprenticeship

Level 2 Recruitment Resourcing Competence & Level 2 NVQ Certificate in Recruitment
Joining our Talent Acquisition team, you'll assist in a wide range of activities throughout the recruitment process. You'll learn about the different areas of the business, the variety of roles we offer, and the factors affecting the labour market. You'll develop core technical knowledge and skills around how to attract the best candidates. And, speaking to a variety of stakeholders and potential candidates on a regular basis, you'll hone your communication and interpersonal skills to perfection.
As well as gaining two qualifications you may have the opportunity to join the AA in a permanent role, and work towards Level 3 qualifications in Recruitment Practice.
---
Business Administrator Apprenticeship

Level 3 Diploma in Business Administration
18 months
On this programme, you'll develop a variety of highly transferable skills, knowledge and behaviours – including problem solving, decision making, time management and, potentially, people management – to help you build a successful career. You'll gain knowledge of our organisation and stakeholders, and relevant policies. And you'll be part of a team working to develop, implement and improve administrative services that add real value to our business.
As well as gaining the City & Guilds Level 3 Diploma in Business Administration you may be offered a permanent role with the AA, with the opportunity to support different teams within the business.
---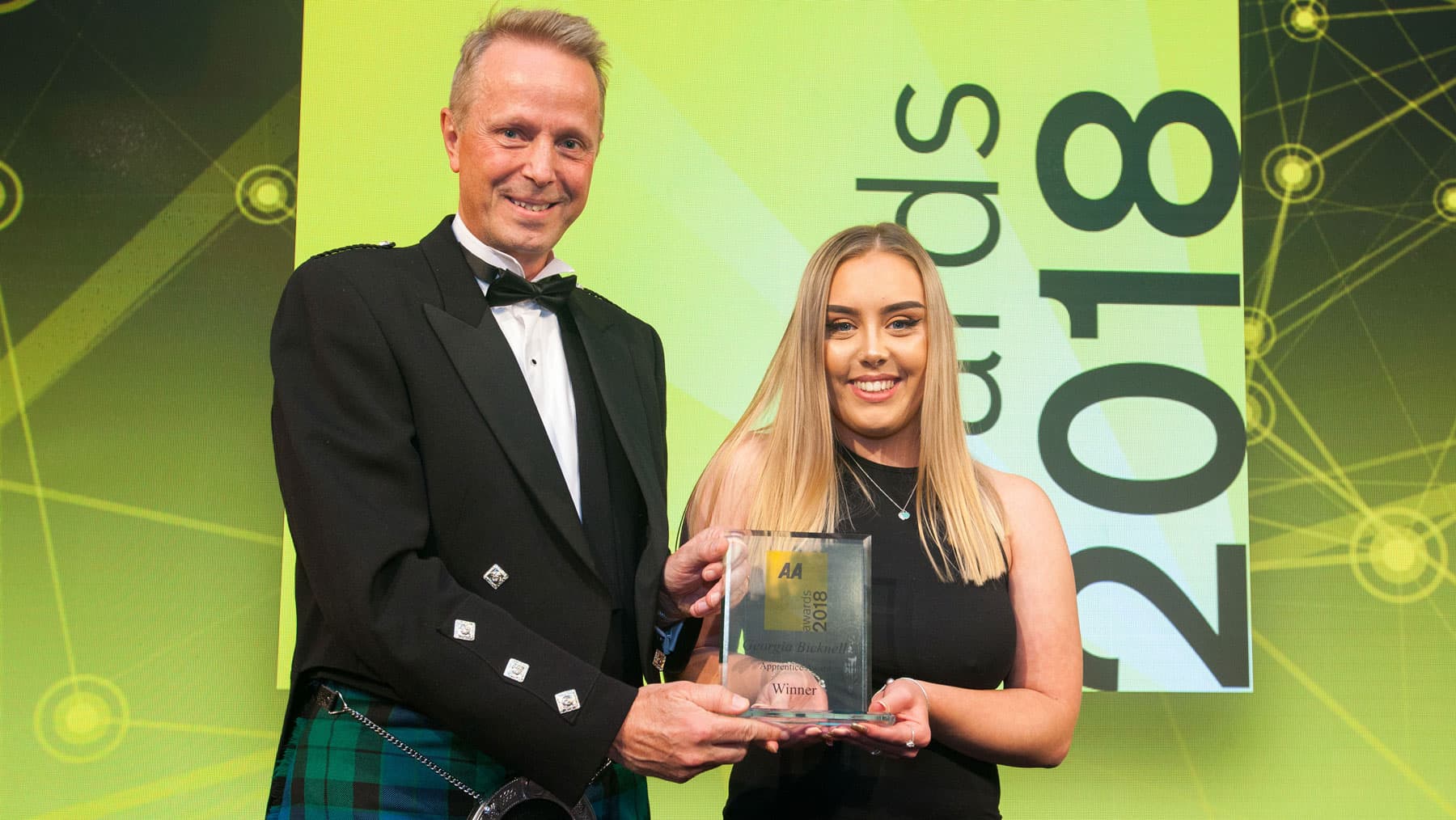 "I never thought that a year and a half down the line I would have been where I am today in my career. This apprenticeship has not only benefited my career, it's benefited me as a person in terms of my personality and my confidence.
Working at the AA isn't just a job. It's a massive part of life, and a massive part of the person I am today. I'm valued as a team member, and that really is the best feeling. Having the company recognise the work you do is amazing, and winning Apprentice of the Year was an incredible achievement for me. I've fallen in love with the job I do as well as the company I work for, and I think that's something most people wish for – I'm incredibly lucky!"