Support for Disabled/Diversity
We understand the challenges people with disabilities face in gaining employment. As members of the Disability confident scheme, we guarantee to interview anyone who meets the minimum criteria of the job they have applied for.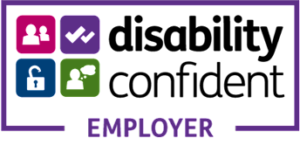 If you develop or acquire a disability while working for us, we will seek to keep you in employment. We'll fully review your needs and make the necessary adjustments where possible. We can purchase specialist equipment, provide additional training and other support. Put simply, we'll do whatever it takes to help you get your career back on track.
Support for applicants with disabilities
As a Disability Symbol accredited employer, we have made the following commitments:
• to interview all applicants with disabilities who meet the minimum criteria for a job vacancy and consider them on their abilities
• to ensure there is a mechanism in place to discuss, at any time, but at least once a year, with employees who have disabilities what can be done to make sure they can develop and use their abilities
• to make every effort when employees develop or acquire disabilities to make sure they stay in employment
• to take action to ensure that all employees develop the appropriate level of disability awareness needed to make these commitments work
• each year to review the five commitments and what has been achieved, plan ways to improve on them and let employees and Jobcentre Plus know about progress and future plans.
Applying for a job
The job description will tell you about the essential requirements for the job, such as necessary experience or qualifications that you'll need.
We probably haven't met you before, so you will need to let us know that you have a disability. We try to be as helpful as possible, so please ask our Talent Acquisition Team if you need any AA Careers information in an alternative format, and we'll do our best to sort it out for you.
Coming to an interview
If you are invited for an interview, we'll ask you if you need any extra assistance, whether it's a disabled parking space or for someone to accompany you to the interview. We will do our best to help you out in whatever way you'd like us to.
If you are eligible for an interview, we'll let you know the location, date and time of the selection process, as well as what to expect on the day. This way, we should have more than enough time to discuss any adjustments or assistance that you might need.
Further support
Your local Job Centre Plus Access to Work (ATW) Scheme: www.gov.uk/looking-for-work-if-youre-disabled/looking-for-a-job