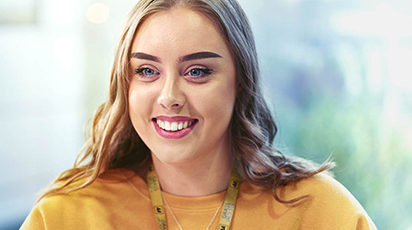 Georgia Bicknell
Talent Acquisition Consultant & AA Apprentice of the Year
Georgia Bicknell's Story
Incredible variety. That's what I've experienced on my AA journey so far. And still, every day gives me something new. I'm a very organised person, but no matter what's on my to-do list, a fresh challenge always pops up unexpectedly. Whatever it is, I make sure I deal with it as quickly and professionally as possible. That's what it means to be Ready for anything.
An amazing amount of learning
Just one year after joining as an apprentice, I've achieved a huge variety of things, and gained all sorts of knowledge. I've completed seven units, with four different tasks in each one – from webinars to quizzes. While studying for my exam I also completed nine coursework modules, with over 100 more tasks in total. I've completed regular development plans and had lots of contact with my assessor. From passing my Level 2 Recruitment Resourcing qualification last year, I am now embarking on my second year apprenticeship and hope to achieve the Level 3 Recruitment Practice qualification. I have no doubt that this environment and the people around me will enable me to expand my knowledge even further and pass the exam with flying colours!
A range of rewarding responsibilities
In my role, I help the Talent Acquisition team to manage recruitment processes. I write reports, administer vacancies on our system, make sure job opportunities get advertised, and liaise with line managers and candidates to schedule interviews and answer questions about the process. There's some financial admin to do, too, including processing purchase orders and tracking invoices. It's a really varied role. I've also loved the chance to get involved in recruitment projects for apprentices and road-based roles. I was responsible for screening candidates, coordinating recruitment days and making sure all sorts of information was communicated.
Superb support
My team made me feel welcome from day one, and they give me an immense amount of support. During my apprenticeship they've quizzed me on topics and taken the time to teach me their knowledge. As well as regular one to one sessions with my manager, there's a weekly catch up with the whole team. We each talk about what we've done well and what we need help with. We consider ourselves a very close knit team. Everyone goes the extra mile to help each other.
Friendly faces everywhere
My favourite aspect of working at the AA is the sheer diversity. As well as interacting with familiar friendly faces every day, I'm constantly building solid relationships with new people. I thrive on communication, and I love that everyone is different here. I believe I've developed as a person because I've met so many different people.