Gold standard support
We're committed to providing as much support as we can to both service leavers and reservists, and our support has been officially recognised. Awarded Gold in the Armed Forces Covenant Employer Recognition Scheme, the AA was one of just 15 organisations to receive this award in 2016. The award recognises businesses that are supporters of the Armed Forces Covenant – a promise from the nation that those who serve or have served in the Armed Forces or their families are treated fairly.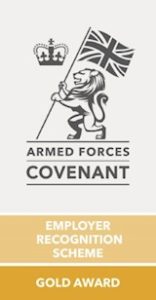 A great fit for your experience
If you're ex-Forces and looking for a rewarding career that makes the most of your skills, strengths and mindset, the AA is the right choice for you. Your military experience means you that can act calmly and decisively in any situation you face – and these qualities are ideal for a career with us. You'll be where you're always needed and ready for whatever arises, to ensure our members and customers get the best possible advice, help and service, whatever they require.
Our connections with the Armed Forces go back over a hundred years when the AA was formed, and most of our Patrols were ex-soldiers. Together, we've got an impressive history of serving the people of the UK. And now, we offer exciting prospects for your future.
Careers that keep the UK moving
We offer a range of career opportunities in different locations right across the UK, encompassing Road Operations, Contact Centres, Membership Sales and a wide variety of Head Office roles. For all of our roles, we look for people from all kinds of backgrounds who can think on their feet and take the initiative. Strong interpersonal and listening skills are important too, with a calm, confident approach to problem solving. In Road Operations, we also need people who thrive on working on their own, are happy working outdoors, and are comfortable working night or day shifts.
Wherever you're based, you'll be in a role where you can still make a real difference to the people of the UK. You'll enjoy a competitive salary and benefits package, too.
"We have many ex-Forces and reserve people at all levels in our teams and find their skills and values are a strong fit with ours. We're always on the lookout for bright, motivated problem solvers." David Brambell, Head of Outdoor Operations