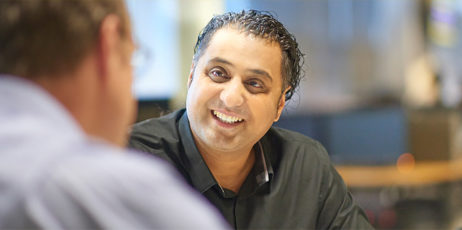 Saj Hassain
Customer Manager
Contact Centres
Saj Hassain's Story
I joined the AA for six months and I've stayed six years! The reason I like it so much here is it keeps surprising you. Opportunities come up all the time and this is a business that likes to develop – and promote – from within.
I've had a lot of different roles here. I managed my own team in Member Services for a couple of years and I enjoyed that a lot. More recently, my role's been a lot more diverse.
Picking up the reins
I plug gaps in the business. Wherever a management space emerges – whether that's to cover holidays, maternity or long-team absence, I get posted to pick up the reins. This can be from anything from three days to several months. And it can cover different locations.
Rewarding initiative
I appreciate that this kind of role isn't for everyone, but I love the constant change. If you're enthusiastic and you show initiative, this is an organisation that responds. I've had experience and training in so many areas as a result – home insurance, car insurance, breakdown support, recruitment, you name it.
Awards and recognition
The recognition you receive is excellent too. Because in AA customer service, most of the senior managers started on the phones, they really get behind people to do well. I was Call Handler of the Year and Best Newcomer of the Year when I started in 2010, and I can honestly say, I haven't looked back since.