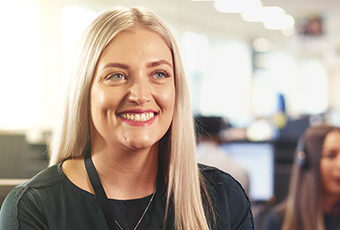 Amy Tucker
Customer Advisor and Sales Assistant
Oldbury Contact Centre
Amy Tucker's Story
Before I applied to join the AA, I knew that I could expect lots of training and guidance. But when I got here, my impression changed – for the better! We had five full weeks training. I'm so happy to be part of a business that invests so much time in their employees. There are so many opportunities for jobs and personal training. My expectations have definitely been exceeded.
The working environment is upbeat and everyone in my team is great. It's so reassuring to know that if you need help or advice, there is a sea of people around who will happily point you in the right direction. I appreciate the monthly one to ones with my manager, which help me focus on my performance and personal goals. And I love the incentives to do better – from team nights out, to a nice breakfast voucher that gets the day off to an extra special start.
I think what I like best about working for the AA is having the pleasure of speaking to the British public every day. You never know what query the person on the other end of the line will have. It's all about making sure the customer has the most enjoyable experience. No matter the day, time or situation, we are always willing to help. That's what being Ready for anything means. The feeling of solving a problem with a customer is priceless.