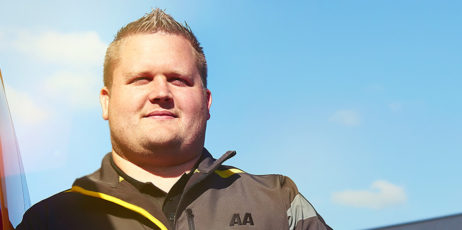 John Snowling
Roadside Technician
Road Operations
I've always had a passion for fixing things. I took an apprenticeship with Mercedes before becoming a diagnostic technician for BMW, all while building race cars in my spare time. So it was a natural step to join the AA, especially as I had a friend who worked in Recovery Patrol there kept telling me how great it was.
I love that I get to be my own boss, not stuck in a workshop. Seeing a bride's face go from thunder to sunshine as the car fires back into life and she's now going to make it to the church (just fashionably late). There's no better feeling. My experience as a racing mechanic, sorting cars in 20 minutes, under hostile conditions, has proven very useful!
You have plenty of freedom. You can earn extra money by doing extra overtime, and manage every situation as you think best. But if you need help, technical specialist patrols are only ever a phone call away. So for me, Ready for anything is having the freedom to do whatever needs doing.