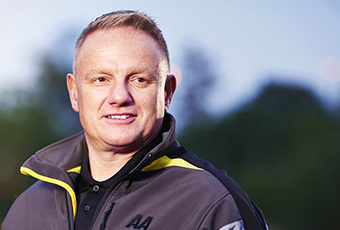 Brent Pugh
Recovery Patrol
Road Operations
Brent Pugh's Story
On Recovery Patrol for the AA, no two days are the same. In fact, no two jobs are the same. You meet people from every background and culture. And you never know what you're going to find. I've recovered a famous chef's 4×4 and Del Boy Trotter's Reliant Robin! I might turn up to a job to find a car is down a street that can't fit my truck, or discover that a customer is angry or frustrated. Every job has its own unique challenges, so you have to be Ready for anything.
I feel at ease meeting and speaking to people for the first time. You can call on your own life experience – and as a married dad of three with eight years in the army and fifteen years driving fuel tankers, I've got plenty of that. I remember a time when an AA Member and her two teenage kids had broken down. The lady was inconsolable, as she had recently lost her husband. I spent about 90 minutes with the family, recovering the vehicle and taking it to a garage. By the end of the journey, we had shared our struggles with losing loved ones. And the lady was relieved and happy.
I get great support from the AA, too. The training is fantastic. Working shifts is a real help with managing childcare. And my boss really looks after me. When I had a trapped nerve in my shoulder, he sorted some physiotherapy out within a week though the AA. Amazing.